It was a case of what goes around comes around for Oldham Athletic, as Crewe avenged Oldham's narrow (and cheated?) victory in December to put their promotion aspirations firmly back on track.

Crewe started with 'Aussie Keeper' Danny Milosevic making his first (and seemingly last) appearance for the club. Tierney returned to left-back after sitting out the Huddersfield Town game, and David Wright replaced Efetobar Sodje at right-back. Ben Rix replaced fellow youngster David Vaughan in midfield. Steve Jones and Rob Hulse continued up front.

Oldham started the brighter, and forced two superb saves from new-boy Milosevic in the opening 10 minutes. Crewe didn't find their feet until Kenny Lunt started to work some of his visionary magic.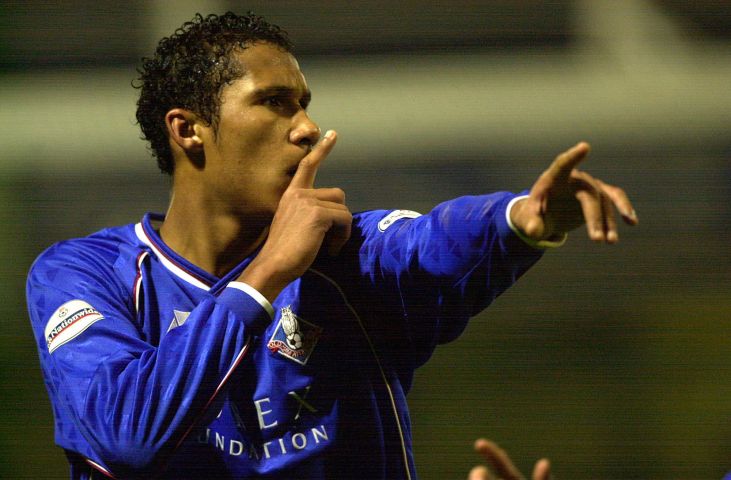 Hall -saw straight red
The first talking point of the match, the sending off of 'one size' Fitz Hall, stemmed directly from Crewe's number four. Lunt found 'Derry Dasher' Steve Jones with a clear view on goal, but just as he was preparing to shoot, Hall clumsily bundled the Ulsterman over, and saw a straight red - the ref had no choice.
The first half ultimately turned out to be a non-event, but Kenny's tireless running at the Latics defence made a mockery of their so-called watertight defence. It was just a shame that Lunty found it so hard to finish. David Wright and Ben Rix were also causing all sorts of trouble for Athletic's left side. Again, clumsy finishing was the difference. Hulse worked a genius piece of magic from twenty yards, unleashing a curling effort, which Pogliocomi just about caught hold of.
So half-time saw the sides equal at 0-0. Milosevic was given a warm reception when he came out to the Crewe fans who were situated only yards behind his goal, with chanting of 'Aussie Keeper' welcoming the new-man to the Alex. However, he was given a colder reception from Latics frontman Wayne Andrews, who purposefully went in on him with his studs (and the rest) digging into the loanee. Milosevic was hurt really bad, and it took him five or six minutes to find his feet, and when he did, he collapsed and was stretchered behind the goal. What is it with us and keepers at the minute? Meanwhile, Andrews showed no remorse and trotted back to chat with his team-mate. Scumbag. Academy lad Stuart Tomlinson replaced the big Aussie.
Tomlinson was in the thick of the action straight away as he dealt shakily with a corner, but grew with confidence as the game went on.
But it was at the other end of the pitch where Crewe made it happen, and it was that man Rob Hulse who opened the scoring with an individual piece of magic he created from a simple Brammer throughball. His quick flick over Pogliucomi and then a simple tap into the corner cued ecstasy in the Lookers Stand.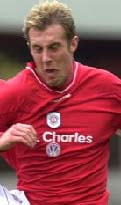 Hulse - on the mark again
The travelling Alex fans roared in approval, and were on their feet for about five minutes after the goal. Hulsey's little piece of magic nearly opened the floodgates for Crewe, as Steve Jones found himself with space to unleash a rocket from eighteen yards which just fizzed over the crossbar.
Paul Tierney and Ben Rix were creating lots of chances for Crewe, but depressingly it was Oldham who got the goal they needed so much. Tierney let Armstrong get the better of him before playing a one-two with Carlo Corazzin, and Armstrong placed a neat finish past 'Tommo.' Athletic nearly made it two when Paul Murray's deflected shot nearly caught Tommo out, but the teenager got himself behind the ball at the last second to make a smart save low to his right.
Tierney nearly put the Alex back in front with a speculative left foot drive from a Lunt short corner. The young Mancunian caught out Pogliucomi, but a Latics defender somehow got his body in the way of the ball.
The two sides both had a good share of possession, but Tommo impressed on his debut to collect every cross he needed to, and the youngster made sure that Oldham did not get ahead. Foster and Walton also blocked everything the Latics could throw at the Alex.
Lunt almost broke the deadlock when Hulse delivered an inch perfect cross to the back post, but Kenny's soft contact made easy work for Pogliucomi.
Dean Ashton returned from injury to replace the tired looking Rix, and his flair and skill ultimately won us the match.
Firstly, though it was the unlikely man of Neil Sorvel who crafted Crewe's second. His accurate cross caught Pogliucomi unaware,
and Hulse was at hand to smash home his 22nd goal of the season. Two
minutes later, Deano signalled his return to form with a blazing drive from twenty yards to seal the win, and send the Alex fans home with something to shout about.
A good crowd of 7597 saw it end Oldham Athletic 1-3 Crewe Alexandra.