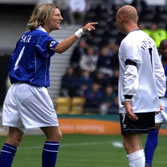 Two ex Alex teammates go head to head
Seth Johnson signed for Derby from the Alex for a record £3.5million after a couple of sucessful seasons and winning the crowd over Seth was brought for £7million by Leeds and David O'Leary.
A few injuries have kept him out but when he is injury free Venables rarley gives him a chance. He is reported to have completed a medical and expected to sign for the boro any time.
Good luck to Seth and lets see him get the chance he deserves.