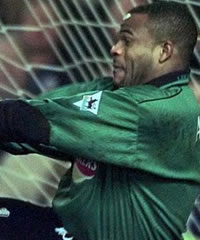 Pegguy-thingy-ma-bob
Wow. Most Crewe fans find it hard to spell Sodje god knows what some will come up with for Arphexad.
We were linked with Pegguy in the Sun and News Of The World and despite the Alex denying we think it's likley to happen. Crewe have to be the worst liars. Dario said he's going to look into bringing in a loan keeper yet they deny it by saying "We have enough cover" duhhhhhhhhhhhhhhhh. The full quotes also included...
"It's rumour and gossip at the moment, it's possible that the manager may look to bring someone in on loan but for now it looks like (Ademole) Bankole will get a chance."
Pegguy plays for Liverpool Reserves. Ever since he moved from Leciester he's only played about 3 Worhtington Cup games and with Kirkland and Dudek as first choice, lets face it, he hasn't got a cat in hells chance of playing for Liverpool.
So we thought we'd help him by taking Dudek and Kirkland onloan.