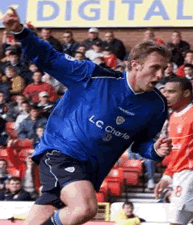 HULSEY!!!
Dario failed in his attempt to get Hulses yellow card, which he picked up at home to Oldham, retracted so he absolutley blasted the Oldham players and what a way to do it...
Dario speaking to the S*tin*l... "We went to great lengths to tape the video in slow motion, but we don't have a right of appeal with bookings and he (Elleray) informed the FA he wasn't changing his mind, Rob certainly didn't go in with his foot up."
"He might have caught him and there must have been some contact for the goalkeeper to behave like he did.
"But we were able to show close up the goalkeeper's face didn't have a mark on it, even though he was rolling around.
"Yet their players' reaction was a disgrace. One of them had his hands around Dean Ashton's throat, but none of my players raised an arm so in the melee that followed Dean and Rob, in particular, just stood there while the other lot manhandled them.
"They incited the whole situation, so my argument was they were the aggressors. We had done virtually nothing, yet it was our player who was booked."
"So we'll have to do without Rob on Tuesday. We have tried and failed and it is his fault for getting the previous bookings, so we'll have to suffer for it when we could have done with one of them fit (Hulse, Ashton or Jack). That might make it hard work for us."
Hulse will now miss the clash with Bournemouth on tuseday in the FA Cup. See Oldham, thought you could see Hulse off for a league game so you can over take us, think again.