Paul Gerrard - Everton
| | |
| --- | --- |
| Name | Paul Gerrard |
| Date Of Birth | 22 January 1973 |
| Place Of Birth | Heywood |
| National Team | England |
| Height | 6.02 |
| Weight | 12.03 |
Paul sits 3rd or 4th choice at Everton and only recently was told he can leave Everton. Gerrard wants first team football at a top Div 1/Prem club, maybe he would want to impress one of those clubs by coming out on loan? Already been on a months loan to Ipswich earlier this season.



Ben Williams - Man Utd

| | |
| --- | --- |
| Name | Ben Williams |
| Date Of Birth | 27 August 1982 |
| Place Of Birth | Manchester |
| National Team | England |
| Height | 6.00 |
| Weight | 13.00 |
Ben is behind Roy Carroll, Fabien Barthez and that French keeper i don't know the name of. Still a youth but has already been on loan to Chesterfield this season. Plays in the same age group as Paul Tierney at Man Utd - so maybe Tierney could have a word.



Luke Steele - Man Utd

| | |
| --- | --- |
| Name | Luke Steele |
| Date Of Birth | 24 September 1984 |
| Place Of Birth | Peterborough |
| National Team | England |
| Height | 6.02 |
| Weight | 12.00 |
Luke is still only 18 but very highly rated. Brought from Peterborough for £500k he can certainly hold his own for the 2nd division. Maybe abit too young for Dario but sits 4th choice at Man Utd and at the moment i wouldn't count anyone out.



Juergen Macho - Sunderland

| | |
| --- | --- |
| Name | Jurgen Macho |
| Date Of Birth | 24 August 1977 |
| Place Of Birth | Vienna, Austria |
| National Team | Austria |
| Height | 6.04 |
| Weight | 13.11 |
From 1st choice to 3rd choice in a week. Sunderland have 5 keepers all looking to push for the first team but currently Mart Poom and Thomas Sorensen are leading the way. It is thought Macho was abit pissed off at the way he was dropped back to the reserves for nothing. Maybe Darios mate Wilkinson would like to help us out? It would certainly help the headline makers out aswell... Macho man.
---

Ok any of them would do us. Others which are in contention are the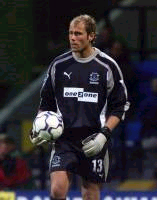 Paul Gerrard

likes of Nicky Weaver and others. It would be nice to see a top quality keeper in to cover but we all know its going to be a 4th choice keeper from someone like Ipswich.