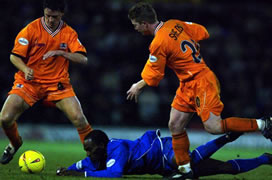 Andrews finds his beloved grass. Ohhhh errr.
After the amount of stick their fans gave us after their 2-1 win at Gresty Road fans have been monitoring Oldhams progress since. Today they played at home to Peterborough and yet they didn't manage to gain second place as they slipped to a 0-0 draw.
They move to 3rd place ahead of Bristol City but have played 1 more match than the other 3 in the top 4...
It means if we win our game at Notts County, whenever that may be, we will move ahead of Oldham. However it could be likley we move ahead of Bristol City and Oldham on Saturday. With Bristol City playing Wigan and Oldham playing Brentford they could both slip up and ofcourse permitting we win at Colchester we could move to 3rd place - albeit on goal difference. Even better if Cardiff lose at Northampton, we could be second.
Comeeeeeeeeee onnnnnnnnnn the Alex!!!!!!!