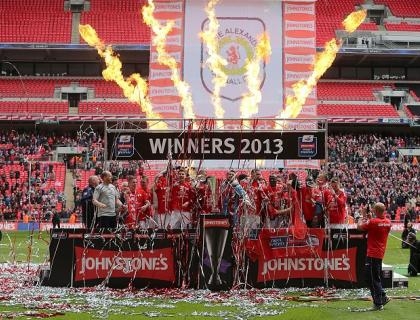 The Alex announced the sad news on Friday that Dugdale and his partner Nicola had lost their baby, with the influential centre-back playing no part in the 2-0 victory over Southend. But his team-mates paid their own special post-match tribute by wearing t-shirts which read 'Duggy and Nicola - you're in our thoughts'.
Speaking afterwards, Crewe boss Davis said: "Adam lost his young son several days after he was born to a million, million, million to one chance, it was growth he got on his head. He lost his fight several days ago."
He added: "He's not been in to the club for a couple of weeks now. I spoke to him yesterday morning about it, him and Nicola are holding up as best as they can.
"I told him the players were behind him, we tried to do something today for them. We got some t-shirts made and I'm sure the players put that little bit extra in for him. We're a family, we are that sort of club, and when something like that happens we rally and get behind people and that result was for him."
Wembley rose for a minute's applause in the sixth minute, Dugdale's shirt number, and it came just seconds after Crewe had taken the lead courtesy of a well-worked corner routine.
Davis admitted afterwards that his side had enjoyed little success practising the set-piece on the training ground on Saturday, but it looked far from the case as Byron Moore's flag-kick was dummied by Harry Davis, son of Steve, and superbly swept home from 20 yards by captain Luke Murphy.
It was the start of an impressive display from the highly-rated 23-year-old, who dispossessed Bilel Mohsni four minutes after half-time to set up Crewe's second which was eventually converted by Max Clayton from close range.
Phil Brown was managing Southend for only the third time having taken over from Paul Sturrock just two weeks ago but he failed to prevent the Essex outfit, backed by 31,000 supporters, from tasting defeat in their first-ever cup final at Wembley. And now he wants the club's focus to shift fully on to their outside hopes of a play-off place in npower League Two.
"Certainly the effort and determination of the players was there to try and win the game, but that little bit of nous and little bit of quality as well as little bit of detail," Brown said. "It was that attention to detail that was why we were one-nil down in the first half, and playing in the wrong areas in the second half was the reason we were two-nil down."
Source: PA
Source: PA