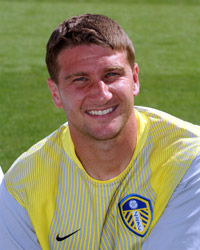 He's 6ft 4in, Bloody big that
Leeds were the team who contacted Dario when Ince got injured on Tuseday but Dario put faith in Nigerian Bankole. Bankole then pulled up with a hamstring injury and manage to just see out the match at home to Huddersfield however he will be out for the enxt few weeks which meant Dario went back to the Yorkshire club.
Rumours were flying around of Pegguy Arphexad and Nigel Martyn but instead we've got Australian Danny Milosevic. Milosevic has already played at this level after signing onloan to Plymouth, in his first league game there he pulled up with a hamstring injury and was sent back to Leeds. That was way back in November. Now though Danny will have a few hours training with the team tomorrow before being pushed straight into the side on Tuseday night at Shrewsbury in the LDV. He will then play his first league game at Oldham... the same team that got him injured after two rash challanges from Chris Killen when onloan at Plymouth. He's on loan for a month and we can add to that should Bankole or Ince fa ce anymore time on the sidelines.
Welcome Danny, heres for a successful month at Crewe and hopefully see you in Marchs Australia vs England clash.
"Aussie keeper, Aussie keeper, Aussie keeper, Aussie keeper, Aussie keeper"