This article was originally written in June last year, when it seemed that Wimbledon were destined for bankruptcy and total destruction. It was written in response to the National Hockey Union refusing Charles Koppel access to the Stadium in Milton Keynes. Since then, The National Hockey Union gave in and the Dons have found a temporary home.

However, the future still looks bleak for Wimbledon who are playing in front of small crowds and are reportedly on the brink of selling their most valuable assets Nigel Reo-Coker, Patrick Agyemang and Jermaine Darlington to Premiership outfits.
---

Wimbledon's rise and fall is one of football's weird stories. Rather like ourselves, they were transformed in a relatively short space of time, but on a much larger scale. As they became FA Cup winners in 1988, who would have guessed what was to follow? Lawrie Sanchez's header and Dave Beasant's penalty save from John Aldridge upset the odds and sealed maybe the most prominent rise in football history.

That warm May Saturday is a million miles away now. Their Plough Lane ground was burnt to cinders in the early 1990s, and after a few seasons of mid-table obscurity in the FA Premier League under Joe Kinnear, a Norwegian Consortium with Charles Koppel acting as Chairman bought them. Kinnear's heart attack after a Coca-Cola Cup Tie at home to Tottenham Hotspur in 1999 was the turning point. Relegation followed and Crazy Gang veteran Terry Burton took the reins, but failed to motivate the fast becoming farcical Dons.

Koppel's 'fiendish plan' then became public. He proposed that Wimbledon Football Club move from their South London home (albeit sharing Selhurst Park with Crystal Palace) and relocate to Milton Keynes.

The Football League and FA had no objections to Mr. Koppel's plans, so the fans of the old Wimbledon formed a new team called AFC Wimbledon, whose aim is to follow in the footsteps of the original Dons.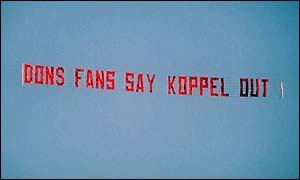 Koppel has destroyed a football club

The ground of the official Dons was virtually empty throughout last season as both home and away fans voiced their disapproval over Koppel's 'murder' of Wimbledon FC. It was surprising beyond belief that they managed to survive last season (2002-03), and credit must be given to Stuart Murdoch who has had to put up with the most awful of awful situations.

The move was to take effect by August this year but as they were put into administration, it is unclear as to the location of our return to First Division Football. There might not even be a game as there is a chance that they might go out of business. Good riddance is all I can say.

Following today's news that Watford refused to ground share Vicarage Road with the Crazy Gang and that David Connolly is poised to sign for West Ham United, it looks bleaker than ever for Wimbledon. No club sympathise with Koppel and the powers-that-be of Wimbledon, they do not see any financial incentive to agree to ground share with them and their handful of fans.

Their best players are soon to be sold, with Connolly to the Hammers and Neil Shipperley reported to be on Palace's wish list. They have no money to renovate any stadium to Nationwide regulations or build a ground and the National Hockey Union have refused to put up with any more of Koppel's silly plans.

The opening day of the season clash against Wimbledon is likely to be forfeited unless a miracle happens, or it is played at Gresty Road. I can only see one long-term outcome for Koppel's Wimbledon MK – destruction.

Wimbledon was a club that defied all odds and came from the South London League to be FA Cup Winners in a dramatically short period of time. Every football fan admired them for this remarkable feat. Lets not forget that our very own Dario Gradi was manager of Wimbledon for a short space of time before Norman Rowlinson appointed him as Alex coach in June 1983. They were once a likeable and respectable club. Now they are a laughing stock. And that can only be good.

If we do somehow end up playing them, I do urge all to attend the game, as our team need the support of what promises to be a long and eventful season. I do sympathise with the fans of Wimbledon greatly who had their club cruelly taken away from them, but Crewe must come first.

Again think yourselves lucky that Crewe Alexandra FC is run in a professional, realistic and secure manner.