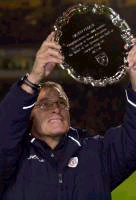 1000th Game Celebration. Lets celebrate his 20th year with a promotion season
Sitting happily in 2nd place we are better placed team out of the 'four', shall we call it. We are two points ahead of Oldham in third but we have a game in hand, against Notts County. Now games in hand don't mean 3 points as Dario said sometime last season but it could stretch a healthy 5 point gap between us and them. Talking of a 5 point gaps we surprisingly have one over 5th place Bristol City. It's certainly surprised me. When we played Bristol City they looked a strong and orginised team to push Wigan all the way. I was scared them and Cardiff could leave us and Oldham behind. However Cardiff seem a bit too rocky to do that. One day they can beat Huddersfield 4-0 the next they can lose 1-0 to the same team with the morale in the twilight zone. From their fans aswell they haven't been playing well since the game at Ninian Park with us. They are however our biggest threat. They have 1 game in hand which if they win brings us level. However we won't know if it has to go down to the game in hand because by the time they play it we could be well ahead of them. On friday night Cardiff and Oldham go head to head. If Oldham win or Cardiff win by 4 or more goals they can budge us off second. A draw would probably be the best result as they following day we play Northampton and should we win we could go 4 points clear of anyone.
However its the LDV Vans Area Semi at Shrewsbury first. Will Dario bring in a new keeper? Should Tommo get his chance? Will we get to Cardiff? Can we win the league? Just a few points you can discuss on our (nearly) thriving
MESSAGEBOARD
. It's getting some good debate these days, why not join in?