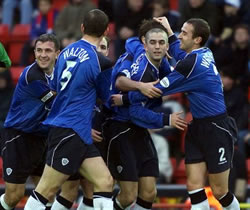 Celebrate good time
Under the clear blue East Anglia sky the approximate 300 Crewe faithful turned up full of aspirations for another Crewe win. The ground has not changed for about 20 years - it was like going back in time - just shows how Crewe have advanced with their new stadium.
Game started pretty uneventful with Ince in goal at the Crewe end. The game then livened up with David Wright making good runs down the right wing and getting good crosses in. Crewe really go into the game and started to pressurise them even hitting the bar. Colchester came back on the counter attach and in a goal mouth scramble where some of the Crewe players stopped and claimed offside, a Colchester player tucked the ball in the bottom right corner from 10yds. This was completely against the run of play and the alex fans were gutted. I however said 'game on' as now from Crewe it should be attack attack attack as we could not go away from Layer Rd with a defeat or a draw if we want promotion and positively contend next year in the 1st division.
2nd half Crewe came out of the blocks. Steve Jones was a transformed man. I couldn't believe it (was this the same Steve who played at Bournemouth). He camer out with some great skill and paired well with Hulsey who's physical presence caused the Colchester defence problems. Steve's goal was pure genious, a left foot curler from the edge of the box which went in like a banana into the top left corner. This inspired the Crewe team and then it was pure pressure from Crewe with eventually Jones scoring another good goal into the bottom right.
Crewe were then well on top. Unfortunately a mistake by one of the Crewe players in the box the far end brought down a Colchester player - looked a bit dubious by me, but anyway the ref ordered a penalty. Ince stood up tall in goal, waited, dived to his right and pushed the shot out which was then cleared to touch. Crewe fans looked to the sky and said thanks. This was a sign that this match was for Crewe.
Game continued until the end with the Crewe fans a bit pensive as the defense were prone to a few slip ups and passing to the opposition. The game ended to the sound of 'Blue Moon' with players and fans applauding appreciation to each other.
Crewe are now second. However they can't let up and must avoid these silly mistakes where we start giving way to the opposition
Man of the match - Steve Jones