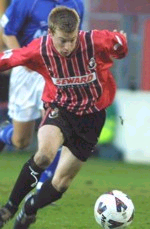 Wade Elliott
We asked Bournemouth-Mad, aka ExiledCherries, about their thoughts on the match. This is what Andy had to say...
Are Bournemouth living up to their fans expectations?
In terms of League position, then yes we are. Just a shame we've allowed Hartlepool United and Rushden & Diamonds to build up a lead at the top of Division 3, especially as we've beaten them both at Dean Court this season.
Are you interested in a cup run or do you think it will scupper your league campaign?
We are interested in a Cup run. We're doing okay in the FA Cup, but would like to get to the Fourth Round. Not only to pick up the additional (unbudgeted prize money), but also to get one over on ex-manager Tony Pulis.
Did anyone impress you, out of the Crewe team, at Dean Court?
Not overly impressed, just pleased that key players for Crewe were missing in action last week. Pity that we didn't take our opportunities when presented in the first 45 minutes.
Can we expect a mini cup shock?
In the FA Cup anything is possible. On paper we shouldn't win because Crewe are doing well in Division 2 at the moment, and we're down in Division 3. Having said that, we can match beat anyone on our day. We've already held Brentford (3-3) in the Worthington Cup, before the knocked us out on penalties, and beaten a strong Cardiff City side in the LDV. So the potential is there for an upset.
What's Bournemouth's weak point?
Our left side. Danny Thomas has not been playing well in recent weeks. Our
Danny Thomas
other weak point is the lack of cover (which we can't afford) with numerous players out injured.
Strong point?
Wade Elliott. He rang rings around your players in the first match, and will do so again if you're not careful. The pace of Hayter, and Feeney (if he plays) will also be a problem for you too.
Best player?
Wade Elliott (right wing), Garreth O'Connor/Marcus Browning (centre midfield) and Carl Fletcher at the back.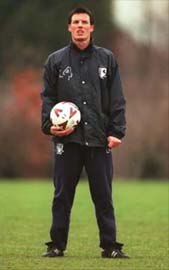 Marcus Browning

How many do you expect to come up to Gresty Road?
I would imagine for a mid-week match, that the usual 200 or so will make the trip and, many staying over night in Crewe.
Prediction for Tuesday?
If league form is anything to go on, a home win should be the outcome, but as I am always optimistic, an away win will do nicely. We're not bad on our travels, so watch out!!
---

Click for the excellent exiledcherried.com