At the start of this year Gay Meadow played host to one of the cup shocks of the FA Cup. Shrewsbury winning 2-1 over, then, 4th place premiership Everton. Nigel Jemson was the hero when he scored the winning goal in the 89th minute to win 2-1. The dream was ovoer on Sunday though when a couple of spectaculer goals from Chelsea saw Shrewsbury lose 4-0 at Gay Meadow. This may have hampered with their league form with just 1 win in their last 8 league games. We all know though that that goes out of the window in Cup competitions.
So far in this competition the Shrews have just managed to get through. In the first round they beat conference outfit 3-0, in the second round they scraped through. 1-1 at the end of normal time a goal on the 94th minute got the 'golden goal' to send them through to play Port Vale. It was the same story with it being a 1-1 draw at the end of normal time. This time a 110th minute goal stopped us from meeting Vale at Vale for the 4th time this season. And for a reminder, We cruised through all of our last 3 rounds. A Rob Hulse hat-trik saw the Alex win 4-0 at Mansfield and saw the 150 loyal fans coming home happy. In the second round we knocked out the holders Blackpool with goals from Ashton and Jack in a dull 2-0 win. The Area Quarter-Final was far from dull as we cruised to a 8-0 win over Doncaster. Vaughan, Ashton(3), Jack(2), Jones and Lunt got the 8 goals as it equalled our biggest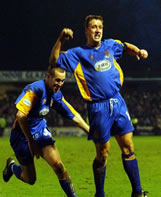 Jensom scores the winner at home to Everton
ever win. This also shows we've gone through all 3 rounds scoring 14 goals without reply. Truely excellent. Only Bury have got through without conceding and they have only scored 4 goals.
This provides us with our only real chance to get to a proper final at the 'National' stadium since Wembley 1997. Tonight is the area semi finals. Bury and Carlisle play in the other Northern Semi. The team from that game play us in the Area final which consists of 2 legs, home and away. The winner of that goes onto play the winner of the Southern section which consists of Bournemouth, Bristol City, Brentford and Cambridge. So we are 3 games from the big time.
Dario has showed his intent on winning it saying kids won't be tested at this level, only first team players. He's only really made 1 master change his season and that was Lee Bell in for Brammer at home to Blackpool in the 2nd round. Shrewsbury are also taking the chance as a chance of real sucess and will be taking it seriously. It seems all the Northern teams left are after that place to Cardiff. The southerners don't care - typical southerners.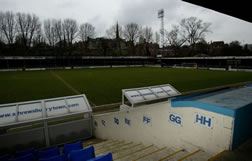 Oh so Gay Meadow
At the weekend both teams had massive games. While the Alex shot up to 2nd with a 3-1 win at Oldham Shrewsbury played in front of the BBC cameras at home to giant Chelsea. Zola scored a beauty, Morris scored a stunner and Carlton Cole and Zola topped off a 4-0 win. The scoreline didn't flatter either team it was simply the class shone.
First though lets concerntrate on this. The team tonight won't include former Shrews hero Dave "Stitch" Walton. He picked up a knock when him and Wayne Andrews collided with Danny Milosevic, the Aussie keeper broke his wrist. Richard Walker will replace super Dave in the heart of the defence as the Doorman says he hopes to give Dario a headache ahead of Saturdays match vs Northampton. Efetobore Sodje will also return to the side as Dario says he wants to rest David Wright. Efe will take his place on the right of the defence. After Ben Rix started on the left at oldham it seems David Vaughan may get his chance. Now i hear you ask what about up front. Thats where Dario is remaining quiet. Who will he play from Jones, Hulse and Ashton? All 3? Hulse and Ashton? Jones and Ashton? Jones and Hulse?
Shrewsbury will have a full strength team and will play a full strength team. probably the one which faced Chelsea. with free-kick expert Jemson and pacey Luke Rodgers.
Prediction
:< Shrewsbury 0-3 Crewe Alexandra>: