We might know which place we can, atleast, rise to on Saturday. With Brizzle and Pie Munchers playing each other on Sky tonight... Yes Sky and Wigan - shocking. Can't get over it myself. Anyway, with them playing tonight should Brizzle lose we have a chance to climb atleast 1 place. Then Bardiff and Northampton play mid-day on Saturday. Should Cardiff lose we climb above them because our goal difference is far superior to money men. That only leaves Oldham to stop our quest to charge into second place, now they're normal and traditionalists and they play Brentford at a strange time of 3:00pm on Saturday. So should they lose or draw... boom we go 2nd.
Ofcourse we have to beat lowly Colchester United first.
Colchester haven't beaten us in agggggggggges. 4 games and we've won them 4. One of them included a once record win of 7(S E V E N) - 1. Their last win against us was way way back in 1992 when The Shaman was number one. Our last win against them was ohh, 5 months ago, when Darius was number 1 with Colourblind. It was a superb 25 yard right foot volley from Lee Bell and a early goal from Hulse, his first of the season, that sealed a 2-0 win for the Alex. Back then we were down in 14th place with Colchester in 15th. How times have changed since. We now sit in 5th and 7 points clear of 6th place and 17 points clear of 14th place. Colchester though have gone the other way. With just 6 wins they sit in 17th place and are in desperate need of 3 points. We need the points aswell though, as stated above, we could move to 2nd place. Oh how we can dream.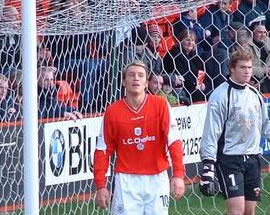 A random picture
So the team. Firstly, HULSE IS BACK! Whoo. Yes Hulse is back and is more then certain to be partnered by flame haired Steve Jones in the front line. Neil Sorvel is probably going to be dropped, thank god, for Lee Bell and David Vaughan might be rested for Ben Rix. tierney has recovered from a bruised foot he picked up against Bournemouth. Other than that we see the usual old line up of... Ince, Wright, Foster, Walton, Tierney. Lunt, Brammer, Bell, Rix. HULSE, Jones.
Oh, Previews will change next on Tuseday, they will be more in depth with stats and opposition team news and opposition views.