Hulse is out for tonigt. Ah well.
Sean O'Driscoll's side have never been out of the bottom two leagues in their history and last years relegation was the fourth time it had happened to Bournemouth since their birth.
Last season saw they cruelly relegated to the Nationwide Third Division by 5 points. It was their away form that had let them down with just 1 win all season away from home and 10 draws. This season in the third division though they are looking to make a quick return to division two and sit in 7th place but 2 points off the automatic places. Thats how tight the third division is. They do have 1 or 2 games in hand over the teams above them aswell so their promotion campaign is going well. They are prone to conmceding though with 29 conceded in their league campaign and they have only scored 31 so thats a goal difference of +2 compared to ours of +21.
In the FA Cup the cherries have reached the 6th round once and the 5th round once. In 1956/57 Bournemouth beat Burton Albion 8-0 in the first round. Swindon and Accrington Stanley were brushed aside after that as they strolled into the 4th round. In the fourth round they beat Wolves 2-1 then Tottenham 3-1 in the 5th round. In the quarter finals they met Manchester United where they lost 2-1. This season they're going well as well as in the league. In the FA Cup they beat Doncaster Rovers 2-1 before being in a thriller with Southend in the 2nd Round. The score went from 0-1 to Southend 0-2 then 1-2 as Bournemouth pulled in back then in the final 10 minutes Bournemouth scored twice to win the tie 3-2. Then they played us at Dean Court where we were held to a 0-0 draw. Lack of height, expierence and goals were our problem as we only pulled out 2 clear cut chances.... but so did Bournemouth.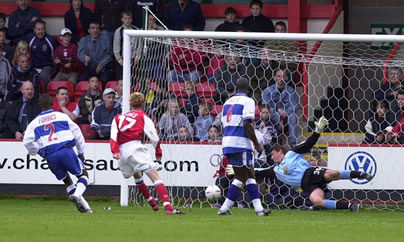 In the league cup they were involved in another thriller. At Brentford they went 3-1 ahead, with the first goal in the first 2 minutes, at half time. The Cherries also had a penalty saved. In the second half Brentford pulled it back to 3-3 and after extra time nothing was going to settle this but penalties. Brentford won the game 2-4 on pens. Probably cruel on the Cherries top say the least. They are though still flying in the LDV Vans Tophy and, like us, they are out to win it. they beat Oxford 3-2 in the first round then brushed aside Leyton Orient in the 2nd roun. Their biggest win though was against Cardiff, although a under strength Cardiff. Cardiff pulled it level after 1-0 behind but Bournemouth snatched a win against our Div 2 rivals on the golden goal rules in extra time. They now face Bristol City at Dean Court next Tuseday... good luck to Bournemouth there!
Apart from this years visit to Dean Court we haven't played the cherries for almost 6 years. We do have a excellent record against them though. They haven't beat us in 11 games and have only scored 1 goals against us in those games. The last time we were beat by the 3rd division outfit was way back in 1981/82 where we went to Dean Court and lost 2-0. In 1977 aswell we lost and the date we met was... January 14th. Lets hope it isn't de ja vue.
Tonight though there is £50k up for grabs whoever wins. The game CAN go into extra time, that WON'T involve golden goal, and if level after extra time it will go to penalties. Lets hope not because trains are murder after 10pm.
The team is to be without many of our best players. Foz and Hulse are both suspended andget the night off. Richard Walker will get his first start since the LDV tie at home to Doncaster. John Miles will take Hulses place and Dario has asked Miles and weekend hero Jones to prove themselfs Division Two scorers tonight. Ashton and Jack are still out injured. Ashton MIGHT be on the benchfor the Huddersfield game and probably back for the Shrewsbury game after returning to training earlier this week. Jack is still a couple of weeks off training with ligament damage.
Bournemouth are without Marcus Browning after suspension and their new loanee signing, Lewis BUxton, is ineligble to play due to the 7 day registration rule in the FA Cup. Also their topscorer, Connell, won't play with a injury sidelining him, Broadhurst and Garreth Stewart ... ditto.